LLP:SERVE (Sports Experiences Reinforcing Values Education) @ SJI Junior
SJI Junior embarked on our Learning for Life Programme in 2014. The 3 objectives of the programme are:
Thrust

Outcomes

Alignment with 21CC Outcomes

CHARACTER THROUGH SPORTS

C1- Inculcating Values and 7-Habits

Encouraging the inculcation of Values and 7 habits through reflective practices, assembly programmes and public displays.

CIT 2.2b

The student is able to reflect on his/ her thoughts, attitudes, behaviour and actions during his/ her learning experiences and determine the modifications required.

C2- Nurturing School Spirit

Leveraging on sports to develop school identity, and thereby increasing common space amidst cultural diversity.

CGC 3.2a

The student is able to demonstrate respectful and acceptable behaviour that promotes social cohesion.

C3- Encouraging Family Involvement

Utilizing sports as a means to rallying the school community (parents, pupils and alumni) and promoting parent-son relationships.

CGC 1.2b

The student is able to demonstrate awareness of the importance of participating in school and community activities/ programmes, and actively participates in them.

C4- Leadership Development

Creating platforms for pupil initiative and involvement to develop pupil leaders.

CC1 1.1a

The student is able to convey information and ideas clearly.

CCI 1.3b

The student is able to work in a respectful manner with others in a group setting to meet the group's goals.

BROAD-BASED DEVELOPMENT

B1- Fundamental & Sports Skills

Acquisition of overall skills and concepts.

Emphasis on application in developmentally-appropriate physical activities and sports

Development of health and skill related fitness

B2- Building a Sports Culture

Creating a sporting environment to motivate pupils toward sporting pursuit through knowledge of Sports and Sporting Values

B3- Participation in School- based Competitions

Increasing opportunities for competition experiences to promote skill acquisition and develop resilience.

CIT 3.1b

The student is able to identify essential elements of multiple tasks/ roles, stay focused on them and persevere when he/ she encounters difficulties and unexpected challenges.

B4- Recreational Involvement in Sport

Sustained involvement in physical activities and sports based on interest and activities, beyond the co-curriculum.

SPORTS EXCELLENCE

S1- Sports Development through Feeder Squads and School Team

Application of training in competitions (Friendly matches, SPSSC); winning a secondary emphasis

Emphasis on sport-specific strength and fitness conditioning

CIT 3.1b

The student is able to identify essential elements of multiple tasks/ roles, stay focused on them and persevere when he/ she encounters difficulties and unexpected challenges.

S2- Mental Skills Training

Development of mental skills through reflective practices such as post-match reviews based on the 7 habits.

CIT 1.1b

The student is able to generate ideas and explore different pathways to respond to an issue/ challenge.

CIT 2.1b

The student is able to use evidence to explain his/ her reasoning and decisions.

CIT 3.2b

The student is able to accept different perspectives, solutions and/ or methods, even in the face of uncertainty.
Under the LLP programme:
Developing Character through Sports

Enhancing Broad-based development

Encouraging Sports Excellence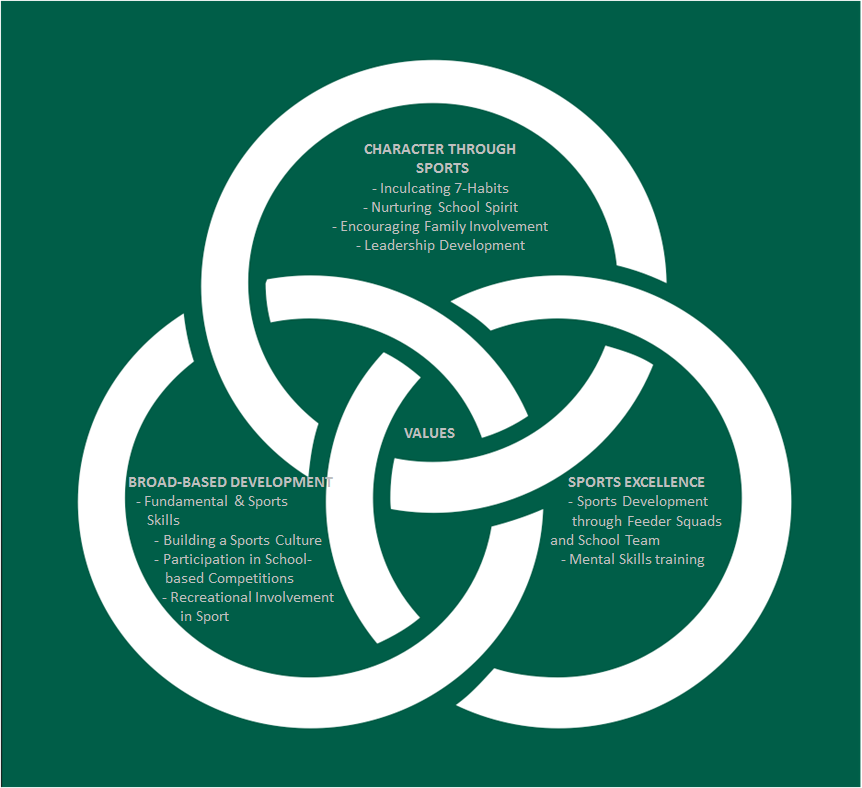 There are increased chances for participation in sports. P1-P2 Pupils take part in the annual Sports Skills Challenge where they demonstrate 8 critical skills learned in the PE curriculum in fun carnival-like games. P1-P6 pupils take part in the Swimming Carnival featuring 50m and 100m events in all four swimming strokes. P3 to P5 pupils participate in the Track and Field meet; all of them also take part in the annual Inter-class Sports Carnival involving 3 sports: Floorball, Captain's Ball and Scramble Soccer.

Values are reinforced: To reinforce values, the Sportsmanship pledge is recited at all sports events. Pupils are presented with a question at each CCA session that addresses 21st Century Competencies, the '7 Habits of Highly Effective People' and Social Emotional Learning. The movie 'The Mighty Ducks' was screened over 6 sessions during assembly and a refection question was posed after each segment; a final refection submission was staged and pupil who submitted their entries were awarded a token reward for their effort.

There are opportunities for family involvement in sports. 'Family Sports Fridays' is a programme that is scheduled fortnightly to cater to families who wish to use the school facilities and PE equipment on Friday evenings for a time of fun and fitness with family and friends.

There are more chances for broad-based development through CCAs. The school caters 16 CCAs to meet a wide-range of interests and developmental needs. The school encourages student-centricity in allocating CCAs according to interest of the students. Many sports facilities were added to the school, including a dedicated gymnasium, running track, Floorball court and Basketball hoops.

There are increased opportunities for sporting excellence: The school hosted 'My Olympic Journey' in 2014 and 2015, organised by the volunteers from the sporting fraternity. The school also partners with St Michael's Soccer Academy, which runs weekday and weekend programmes for students of the school. Our school teams have also garnered more awards over the years due to the strengthening of our high performance training programmes.