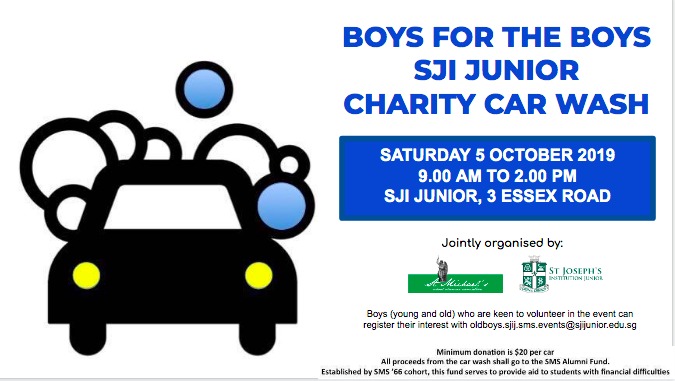 Invitation to 6th Annual General Meeting, 13th April
SMSAA Notice of AGM 2019
Year End Mass & Makan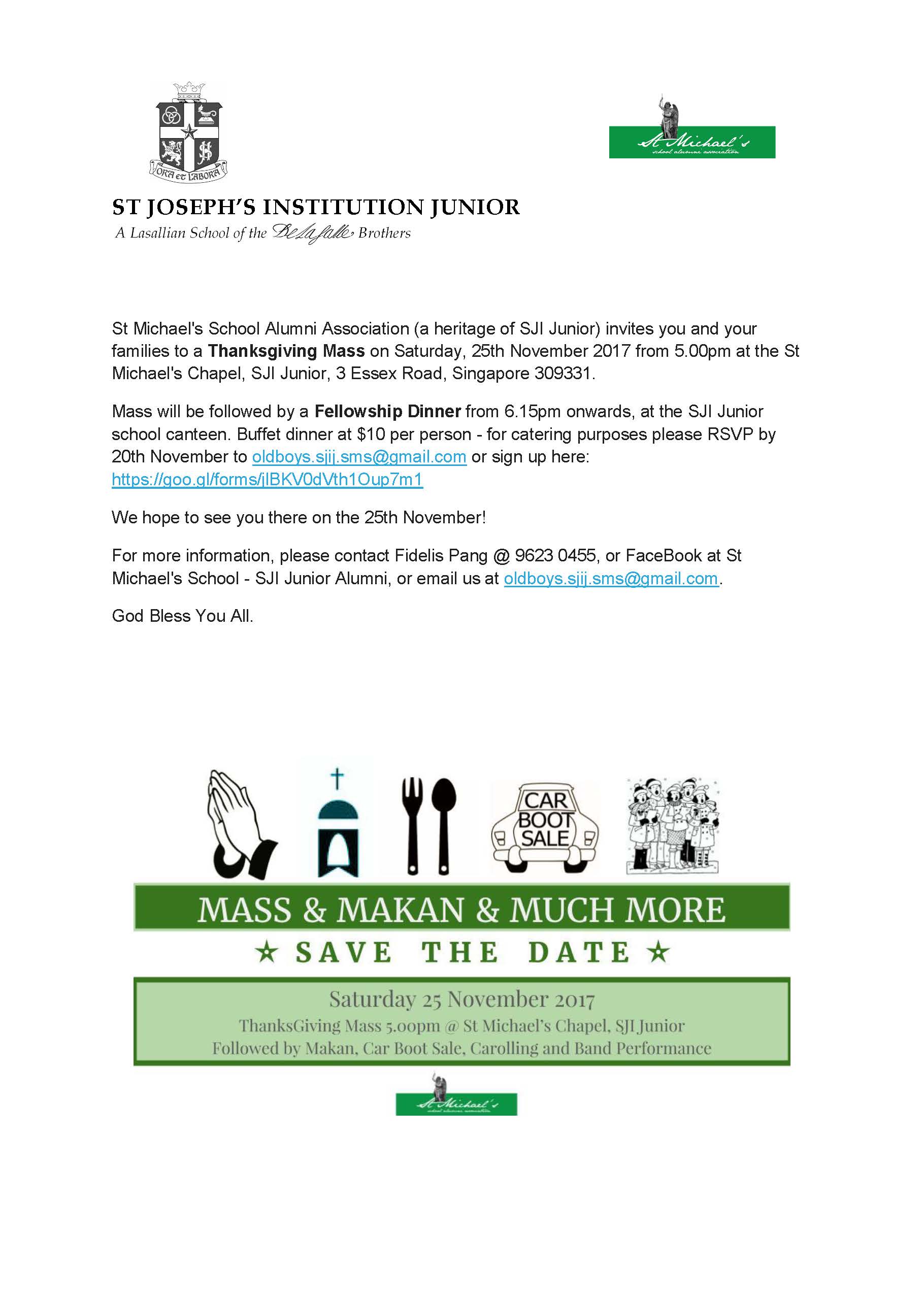 Invitation to 5th Annual General Meeting, 10th February
Invitation to 5th Annual General Meeting, 10th February
Dare to Play 3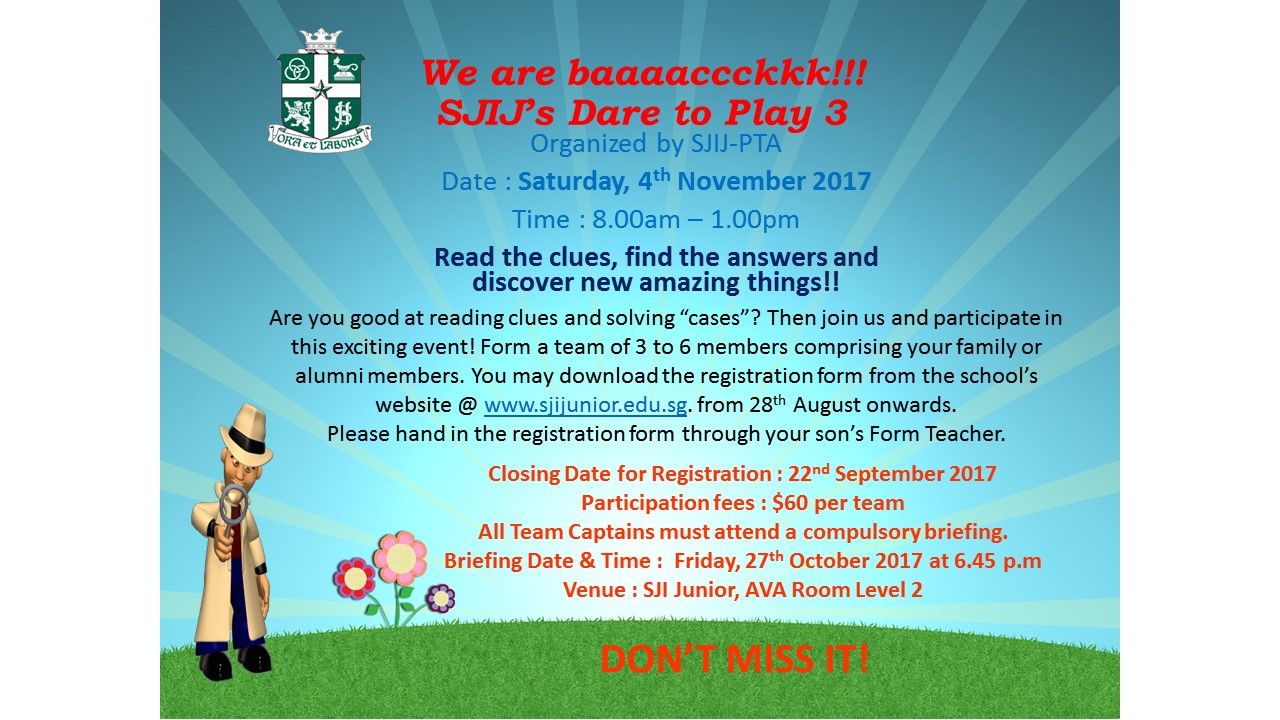 DTP 3 Registration Form 2017.pdf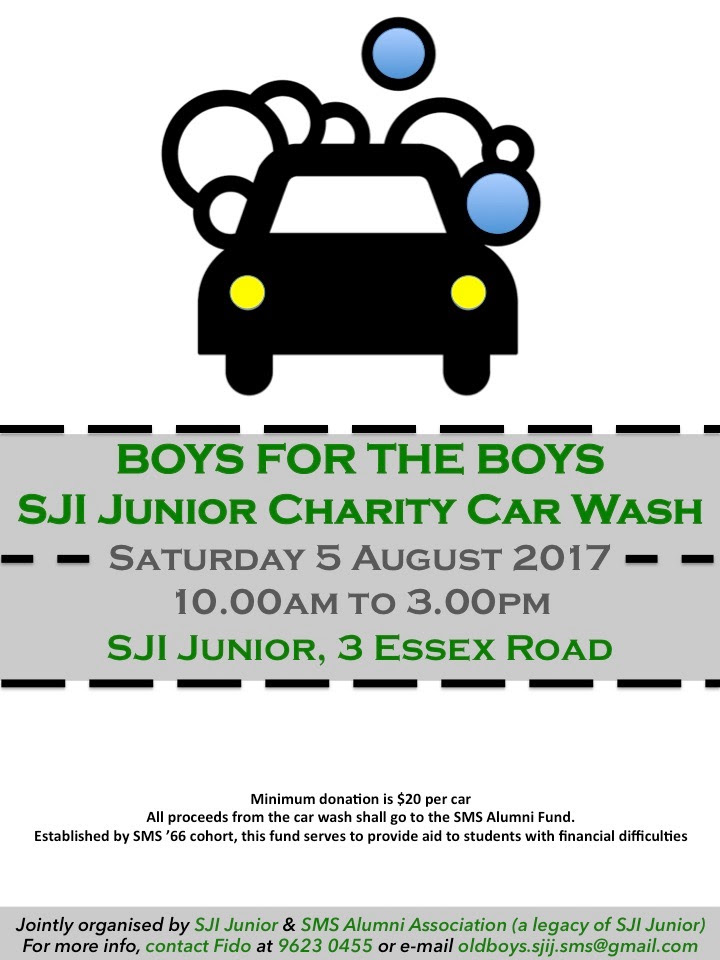 Dear SMS / SJIJ Old Boys

As broadcast below, we would like to share more details about the fund raising (for the first time!) so that you can appreciate the efforts on why we are doing this.

1. Through the generosity of the Class of '66 (no kidding!) some years ago, a few Old Boys got together and decided to create a fund (the St Michael's School Alumni Fund is under the control of the SJIJ and not by SMSAA) to assist needy students. The Fund is not a separate registered association but merely funds collected and disbursed and this is administered by SJIJ with the recommendation of the committee created by the Class of '66.

2. The Fund will support needy students (on various financial schemes) in areas where they don't get MOE support.

3. On average, there are about 40 needy students every year.

4. Annual disbursements from the Fund are about $15k.

5. A Hong Bao Festival has been held every year for these needy students where they are given a bursary of sorts and some gifts.

6. The Car Wash is meant to inculcate our SMS / SJI values of giving.

7. The Fund can only continue with the generosity of the Old Boys of SMS / SJIJ.

We, the Old Boys of SMS / SJIJ, have been privileged to have enjoyed our time at SMS / SJIJ. We would have met some of these needy students in our time. In fact, some of us may have been the beneficiaries of the Fund. So, now, we ask you to step up and be counted, with your generosity in the following areas: -

I. Sponsors – in any form (e.g. gift packs)

II. Donations – in any amounts (if you contribute at least $200, you get a tax deduction receipt – a big incentive!!!) AND if you could, bring your car back to SJIJ to be washed

III. Car wash – we are asking Current (already received a few registrations) & Old Boys to please come forward to help with the car wash

For more information or if you wish to contribute in any way, please contact Fidelis Pang (affectionately known as Fido), SMSAA EXCO Member, at 9623 0455 or at oldboys.sjij.sms@gmail.com.

Please forward the invitation to the car wash to your family and friends!


Boys for the Boys
SJI Junior Charity Car Wash
Saturday 5 August 2017
10am to 3pm
SJI Junior, 3 Essex Road, S309331
Minimum donation is $20 per car
All proceeds from the car wash shall go to the SMS Alumni Student Assistance Fund
Jointly organised by SJI Junior & SMS Alumni Association (a heritage of SJI Junior)
For more info, contact Fido at 9623 0455 or email oldboys.sjij.sms@gmail.com
AGM REPORT BY SMSAA PRESIDENT FOR THE YEAR 2016 – 2017
Dear Members,
A year has passed so quickly and over that period, it has been extremely heartening to see the strong and unwavering support of the old boys of St Michael's School and SJI Junior. The Michaelian and Josephian spirit is truly strong within us!
One particular example of this was when the school needed to fund the construction of its new artificial turf pitch and improvements to various parts of the school building.  Members responded immediately and overwhelmingly with contributions amounting to more than $10,000 within a short space of time.  The cost of the pitch was fully covered and the boys now have a great facility to play on and also better conditions to study in.
On 21 May 2016, we organized a talk by Adrian Lim, a registered psychologist and counsellor, to improve parenting skills. The parents who attended the talk, "Challenges in Raising Sons & Daughters Today," found it useful and relevant and even suggested that it be a regular feature of SMSAA's activities. 
Last November, we also held our annual Thanksgiving "Mass & Makan," that has now become a key feature in our calendar. It was a fantastic turnout of old boys and their families. The SMSAA family that prays (and eats) together will surely stay strong together!
The weekly indoor small-sided football sessions continue to take place, as with the access to the school's sports facilities on selected days.  Also, we will continue to support sporting activities such as futsal and badminton among alumni members and their families and friends. We invite members to find out more by visiting the school's website.
Going forward, we see that food is one of the great tools for getting members together, building camaraderie and stronger bonds among members. Therefore, we are planning for more of such opportunities to achieve this and to also strengthen the association with the school.
Other future activities that we are considering include a short trip to nearby holiday destinations (for example, Kukup), talks for parents and perhaps event excursions to places of interest (a walking heritage tour of the old SJI by old boys!).
All these are platforms that we intend to adopt to connect and stay in touch with each other.
As we plan for these activities, we hope to see more members at the various gatherings and we welcome ideas and suggestions on ways to contribute back to our alma mater.
God Bless.
Gerard Hooi
President, SMSAA
Saturday, 10th February 2017
Letter from the President
27 May 2014
Dear Michaelians and Josephian Juniors,
As announced by Timothy Goh, Principal of SJI Junior, St Michael's School and now SJI Junior will be celebrating 60 years of our Glorious Legacy, in the attached broadcast, on Saturday, 5 July, 6:30pm at the School Hall / Concourse.  You can come yourself but because this is a special not-to-be-repeated occasion, please bring your former class / school mates together to reminisce the good old times.  Better still, if you are in touch with your former teachers, please give them this grand treat!  We are what we are today, due largely in part to our upbringing in SMS / SJIJ.
So, dust off your old address books and start calling / e-mailing / WhatsApp-ing / FaceBook-ing / LinkedIn-ing your former class / school mates.  For more details or registration of your attendance(s), please refer to SJIJ's website at /others/60th-anniversary-dinner.  As seats are very limited, please register your attendances as early as possible to avoid disappointment.  Registration is strictly on a first-come-first-served basis.
Michael Ang (Class of '66)
President
St Michael's School Alumni Association
St Joseph's Institution Junior
No. 3 Essex Road,
Singapore 309331
Email: oldboys.sjij.sms@gmail.com
Facebook: http://www.facebook.com/groups/267291913380728/
Tel: 6255 2700
Fax: 6255 7455
Letter from President
2 May 2013
Dear Michaelians and Junior Josephians,
Welcome to the St Michael's School Alumni Association (SMSAA), formed for fellowship and brotherhood. The School has offered a facility for old boys to gather for sports and re union activities. The St Michael's Sports Hall, after the school moves back to the Essex road location in June 2013, will be available to members of the SMSAA who will be given priority (this is being worked out with the Sports Council who manages the Hall). There will also be a Heritage room which will house all forms of memorabilia, to remind us of the halcyon days of the past. Sons of members of the SMSAA also get higher priority when applying for admission to the school.
While we reminisce with our classmates and schoolmates, any assistance to the school will be greatly appreciated. My classmates and I formed the SMS Alumni fund to help needy students in SJI Junior, a few years ago. We hope many more will come forward to assist the School, through this SMSAA, in any way and activity that you can. The Pro- Tem committee will plan a series of activities beginning with the re-union lunch on June 29, 2013, when SJI Junior moves back to its Essex road campus. The first Executive Council (ExCo) will be elected into office in January, 2014, the 60th anniversary of St. Michael's School. We look forward to many of you, who have the inclination, to contribute your time and resources to serve in this Exco.
Please join the SMSAA as we remember our heritage and come together as old friends.
Yours in St Michael,
Michael Ang
Class of 1966
President, Pro Tem committee
St Michael's School Alumni Association.