Homecoming Dinner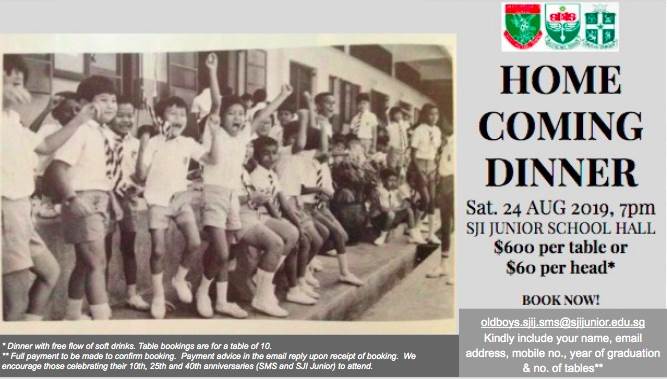 Boys for the Boys SJI Junior Charity Car Wash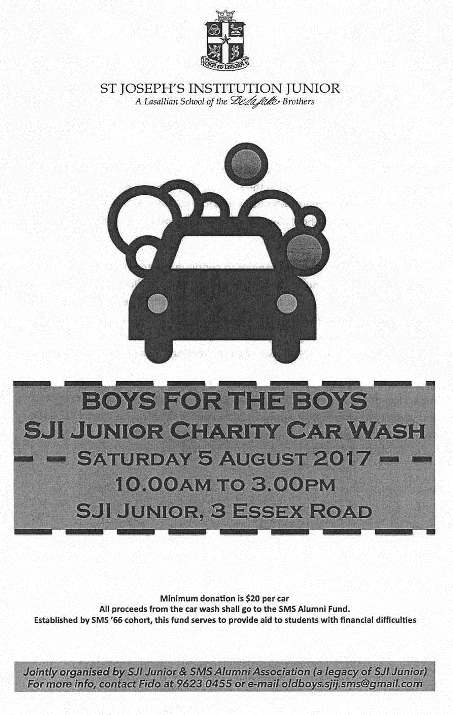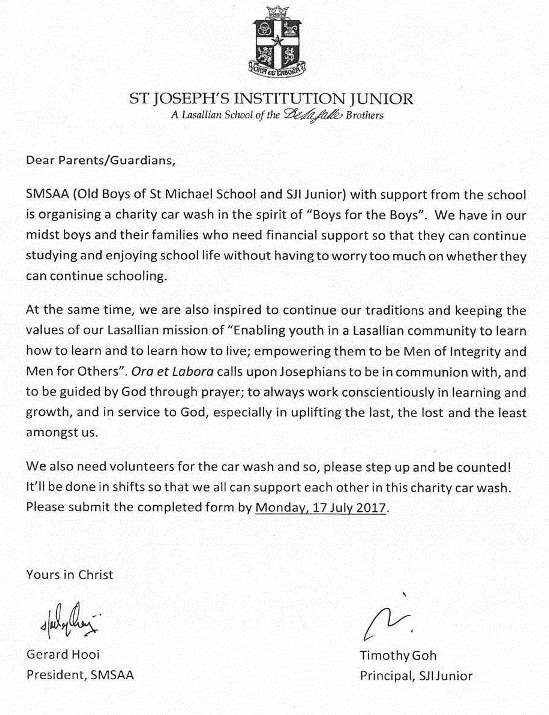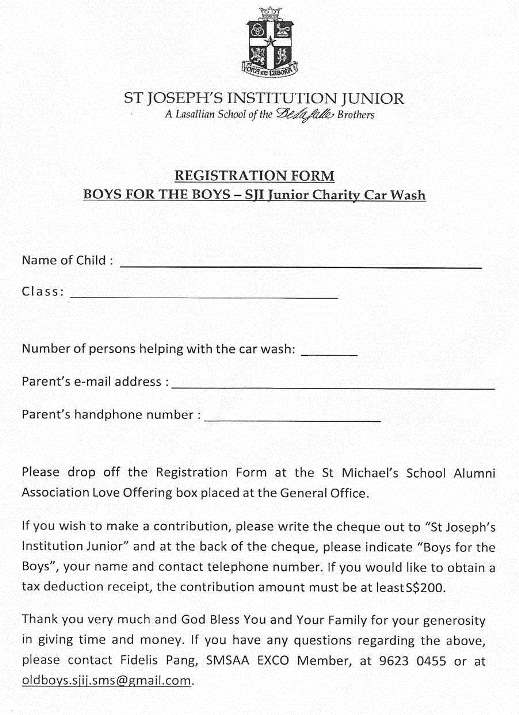 SMSAA CNY GATHERING
We would like to kick off the year's SMSAA activities with our very own reunion dinner on 10 Feb at 6.30 pm with Lo Hei, Laksa and Longan (LLL). We do hope to connect with as many of you as possible and do reach out to other old boys and bring your families along as well. Please fill in the registrationform to help us work on the logistics and we hope that you can contribute a love offering to defraythe cost of the event. If you are not yet a member, we would like to encourage you to join the SMSAA by submitting the online form. We look forward to seeing all of you!
SMSAA - 2017 LLL Registration Form
SMSAA Thanksgiving Mass & Makan on 12th Nov (Sat)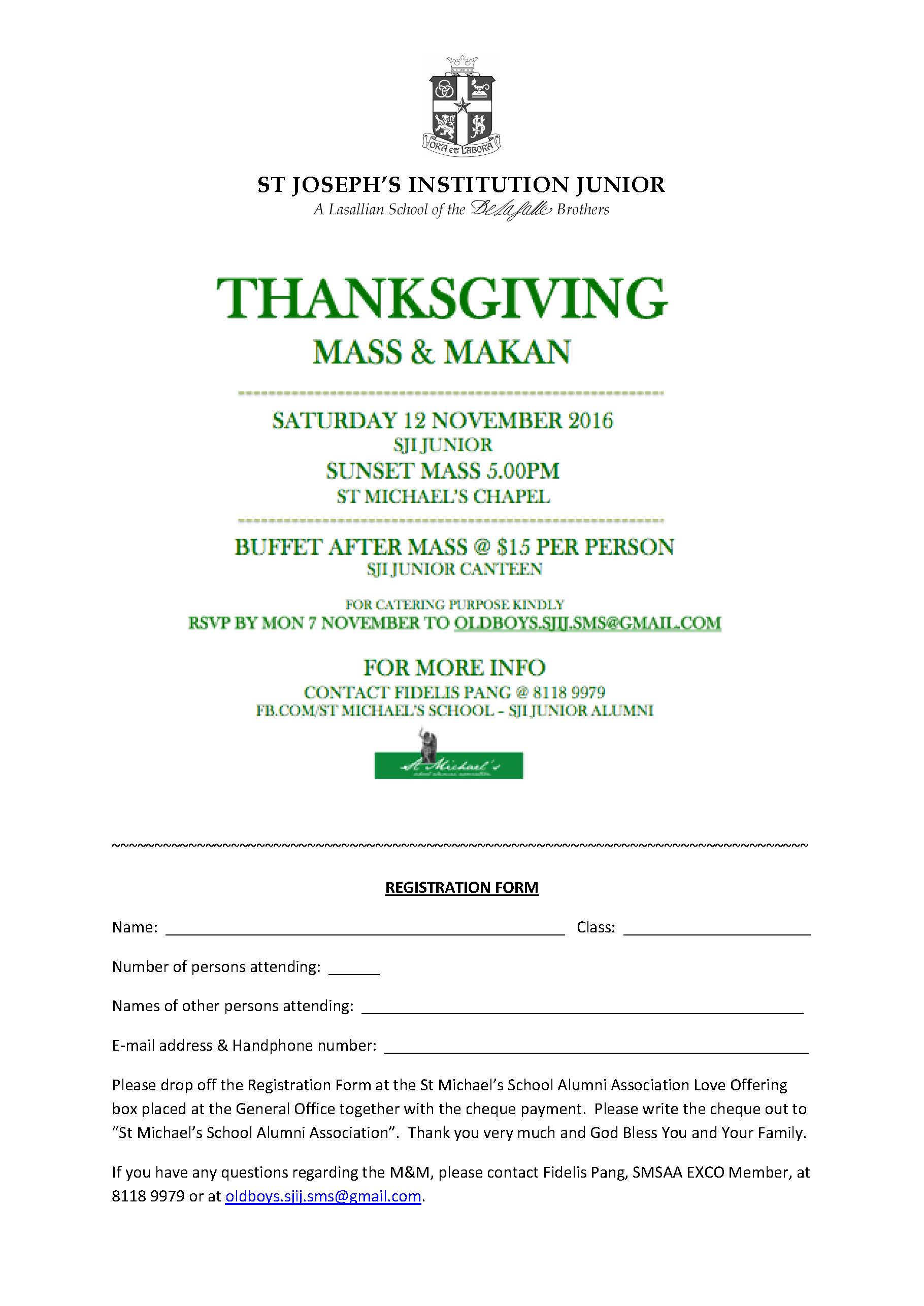 The Alumni Association would like to invite YOU, the staff of SJI Junior for the above event. More info can be found in the attached form.
If you wish to participate, please print, complete and place the attached form with your cheque into the slot near the "Caught Doing Good" one.
SMSAA - 2016 MM Registration Form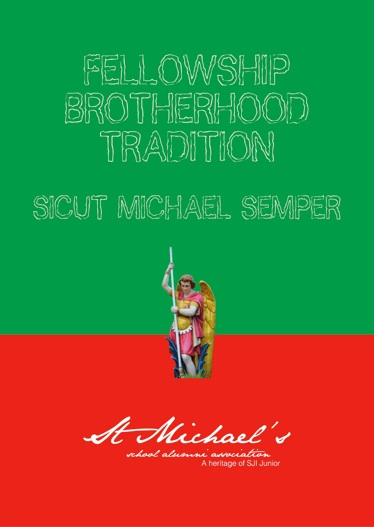 Welcome to SMSAA's first newsletter for 2015! See below for upcoming events and activities, including our Food of our Times heritage cookbook project for our School being jointly organised by the Association and the SJI Junior Parent-Teacher Association (PTA). There is also an invitation to Family Sports Nights (every 1st and 3rd Friday of the month) at which old boys can join with students and their families to play badminton and futsal - Read on!
"Food For Our Times" -5 September 2015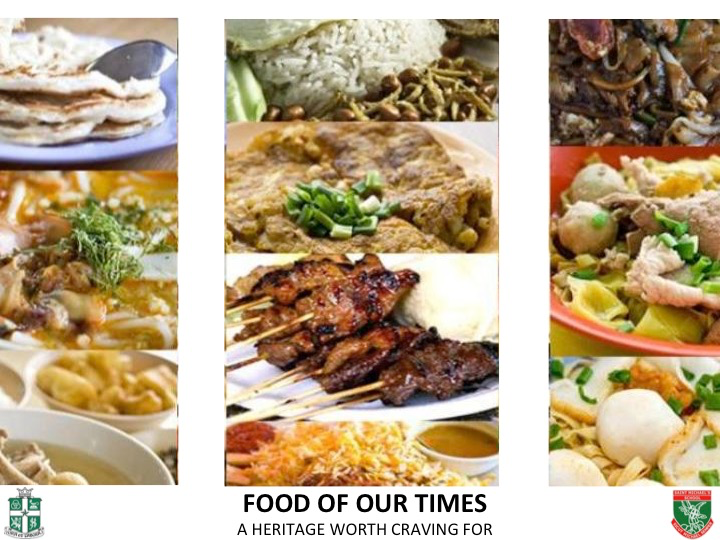 Have you got a special family recipe you like to include into an SMSAA/SJIJ heritage cookbook? The SMSAA Exco and SJIJ PTA would like to invite you to participate in this worthy project to create a cookbook of food dishes with special meaning, either to your family or for your school experience. We will showcase these dishes at a special cook-out, presentation and fellowship event on Saturday, 5th September 2015.
Please save the date in your calendars, and if you would like to help/participate in this project, please email oldboys.sjij.sms@gmail.com.
Family Sports Nights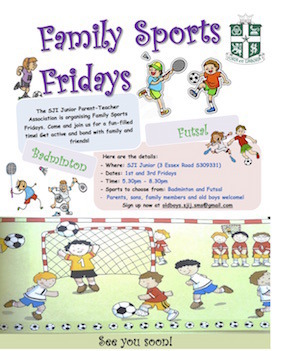 Family Sports Nights are held at the SJI Junior Sports Hall at 3 Essex Road, S309331 every 1st and 3rd Friday night from 5.30 to 8.30pm. Badminton and futsal are offered at present, and old boys are invited to join in the fun. Help with co-ordinating the event would also be deeply appreciated - Family Sports Nights are organised by two old boys and current PTA committee members Perry Lim and Andrew Lim. To join in the fun, please register by sending an email to oldboys.sjij.sms@gmail.com.
Saturday Futsal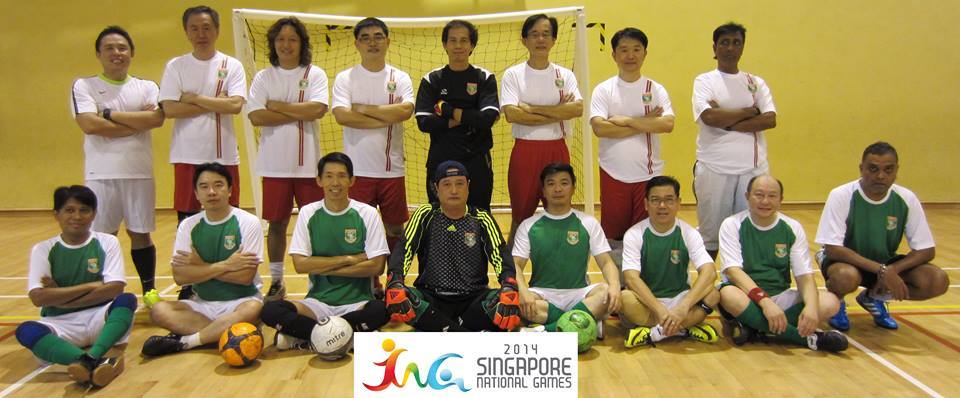 Saturday Futsal: Join our band of old boys in futsal in the SJIJ Indoor Sports Hall (and occasionally games on grass pitches) on Saturday mornings from 10am to 1pm. Our teams, the Angels and the Eagles took part in the Singapore National Games 2014 in November and will be playing in the Lasalle Futsal Tournament on May 16th (see below). Let us know if you are keen to join the Futsal on Saturdays with an email to oldboys.sjij.sms@gmail.com.
SMSAA Annual General Meeting
7 March 2015, 2.30pm
A great BIG thanks to all members who turned up for the SMSAA AGM on the 7th March 2015 at SJI Junior. It was good catching up with fellow Michaelians and an even more engaging exchange of ideas and suggestions to grow the alumni along with a better understanding of the school's plans and areas where it needs assistance.
Special thanks to SJI Junior Principal Timothy Goh for his support, Vice-Principal Linda Lau and Mrs Colleen Sheares for arrangements for the AGM, George Kheng for his support and lending a hand and Robert Seng for photos (available at the SMSAA Facebook page).
Lasalle Futsal Tournament - 16 May 2015, SJIJ Indoor Sports Hall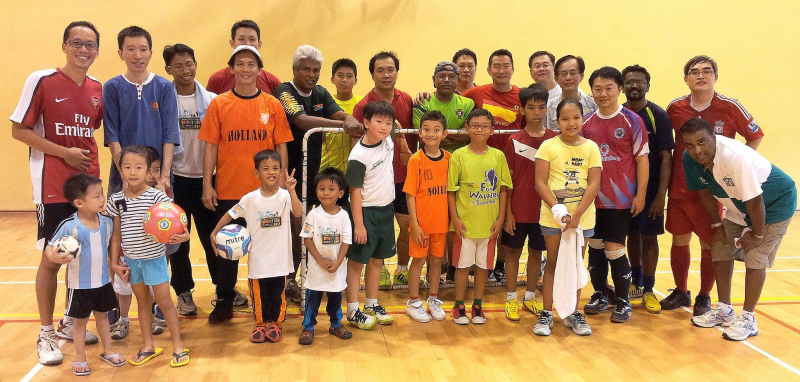 Alumni teams from SMSAA, De La Salle School Alumni Association, St Anthony's Primary School Alumni and St Stephens Primary will be playing in the inaugural Lasalle Futsal Tournament on Saturday, May 16th from 10am at the SJIJ Indoor Sports Hall at 3 Essex Road, S309331. Come and cheer your teams on the day!
SMSAA Mass & Makan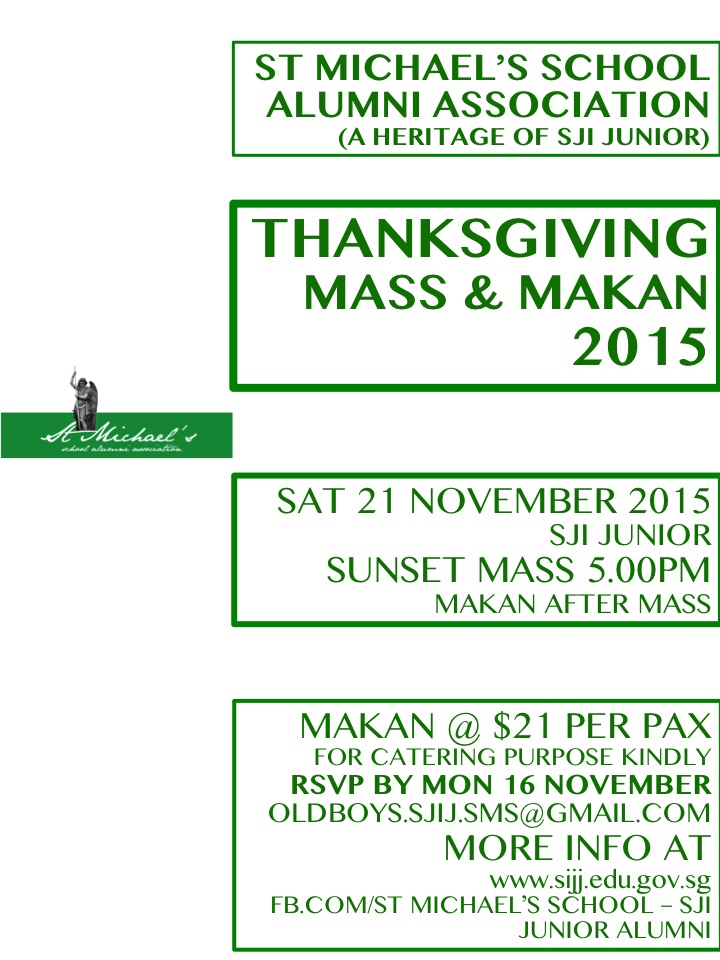 Calling Old Boys! Please give your support to the event and RSVP!